About

"L'Horizon Vert" is a renovated farm build in 1908 and is situated at an altitude of 1000 meters in a unique green environment. The silence, the peace, the pure air, the beautiful starry skies and many other aspects transform this house into a little paradise.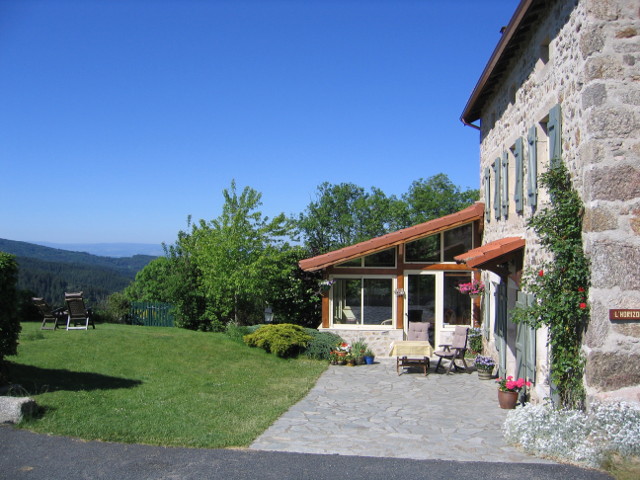 In our search for peace and nature, we discovered the Haute-Loire. That's the southern part of the Auvergne. We immediately fell in love with the extended landscapes and the magnificent nature; just like it was love at first sight with this country house in Bonnefond (Sembadel).
The region is thinly populated and includes one big walking area. It has an impressive cultural heritage in cities like: La-Chaise-Dieu, Le Puy-en-Velay and Brioude. There are also small villages with castles, picturesque churches, etc. On top of that, there are many to-do-things like rail biking, festivals and walking activities.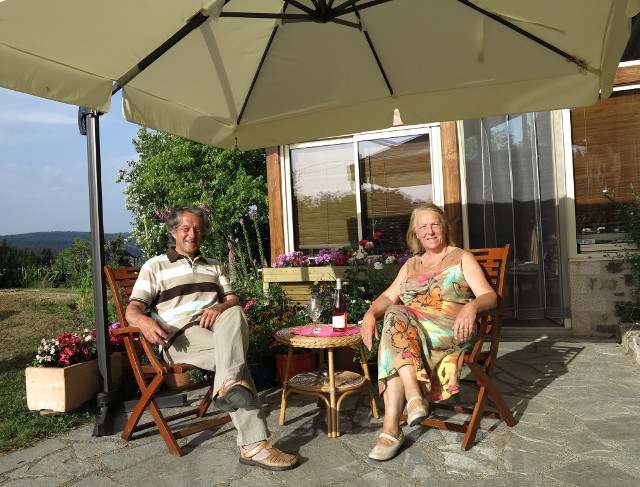 The house includes two guest rooms, each with their own bathroom and toilet. Room "Hop" is a double room situated on the first floor. The rooms "Swallow" and "Sparrow's nest" form a quadruple room and has also a private bathroom and sanitary. This accomodation is ideal to let to a family with children or related friends.
Because hospitality is one of our major goals, we insist to offer our guests a nice breakfast and the possibility to have a four course menu. Your hostess will surprise you with regional dishes as well as world kitchen. If desired, it is also possible to get vegetarian meals. And last but not least, all wines served at dinner are included in the price.
Hilde & Frans

Chambres

Our Chambres d'Hôtes has two bedrooms: "Hoopoe" and "Swallow". Both are double rooms with private bathroom and sanitary. In extension of the room "Swallow" we offer the room "Sparrow's nest", together they form a quadruple room. A child's bed is also available.

Tables


Prices

Our Chambres d'hôtes is open from the 1th of April to the 30th of September. Outside this period we are only open for reservations of minimum four nights. If you do want to book for less than four nights in this period, do not hesitate to contact us, it might be possible. The price per bedroom (per night) also includes the breakfast. We request that You only make minimum two nights reservation during the months of July and August.
We also offer to our guest the possibility to have supper. The supper consist out of four courses: soup or entrée, main course, cheese and dessert. Also, for the enthusiasts there is the possibility to have coffee or tea after the supper. The hostess will surprise you with local and world cooking. We also serve vegetarion dishes on demand. All drinks, served at supper, are included in the price. The general price for an adult amounts to € 27 pp (drinks included).
| Accommodation type | Price |
| --- | --- |
| Night (2p, bed and breakfast) | € 83 * |
| Night (1p, bed and breakfast) | € 73 * |
| Night (+1p, bed and breakfast) | € 30 * |
| Supper (soup or entrée, main course, dessert, drinks) | € 35 pp |
(*) Tourist tax included.

Contact

L'Horizon Vert can be contacted at
Bonnefond (Sembadel), 43160 France
Tél: 0033-471009589 | GSM(portable): 0033 - 787787329

Reservation

In order to make a reservation inquiry, you can fill out the following form.